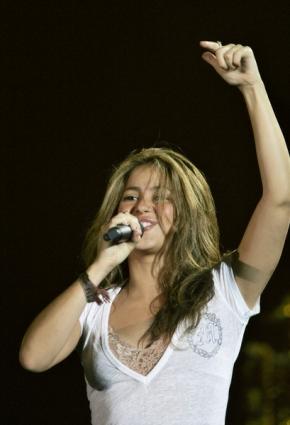 The Shakira biography is the story of a star who struggled to break into the music industry and then went on to have the top-selling single of 2000 - 2010.
Shakira is a truly an international artist. Her music borrows from Latin, Middle Eastern, British and American influences, and she performs in three languages: Spanish, English and Portuguese. It's not easy to glean many personal details from a Shakira biography as she is also a notoriously private star and reportedly has an IQ of 140. Although audiences in the English-speaking world know her primarily as a pop artist, Shakira has dabbled in many genres of music - a fact that is made possible by the amount of creative control she has demanded throughout her career.
Shakira Biography: Early Years
The Shakira biography begins on February 2, 1977, in Barraquilla, Colombia, when Shakira Isabel Mebarak Ripoll was born. She claims Spanish, Italian and Lebanese roots, and this family influence would go on to be evident in her music. She was the only child of her parents, though she grew up with eight half-siblings from her father's first marriage.
Shakira's father was a writer, and she loved to watch him working on his typewriter. She asked for her own typewriter for a Christmas present when she was four, and after receiving it, she took to writing poetry. This early poetry writing habit would soon morph into songwriting.
Also at age four, Shakira visited a Middle Eastern restaurant with her parents. There, she was exposed to Middle Eastern music, including doumbek, a percussion instrument that is traditionally played to accompany belly dancing. She fell in love with the music as well as the belly dancing that night at the restaurant and soon began taking belly dancing classes. She used to demonstrate a new belly dancing routing for her school friends every Friday after school.
Her dancing might have impressed her schoolmates, but the school choir teacher was less enamored with her talents. After Shakira auditioned for the choir, she was sent away by the teacher, who told her she sounded like a goat.
At age eight, Shakira went for an extended visit with some family members in Los Angeles. When she returned to Colombia, she discovered why her family had sent her away - they had filed bankruptcy and had to sell most of the family's belongings. She was devastated, until her father took her to see a group of orphans to help her gain perspective. That experience would change Shakira's thinking radically, and once she gained fame, among the many charitable causes she championed was support for orphans.
Between ages 10 and 13, Shakira began performing regularly around her hometown, usually working with a local promoter named Monica Ariza. Ariza happened to meet a Sony Colombia executive on a plane on day and convinced him to give Shakira an audition in his hotel. This executive, Ciro Vargas, championed Shakira's cause at his label and eventually, she landed a three-album deal.
Rise to Fame
In 1991, Shakira's first album, Magia, was released. She was only 13 at the time, and most of the songs were written when she was eight or younger. The pop rock album received decent radio support in her native country but was a sales flop. Her second album followed suit. The label released her third album in Colombia only, though the album did spawn some radio hits in other South American countries.
Although her deal with the label had expired with relatively little success, they re-signed her. After tweaking her sound and persona, going for a more rock-oriented angle, they released Pies Descalzos. This album was a breakthrough for Shakira in the Spanish-speaking world. It reached number one in eight countries and fared well on the Billboard Latin Music charts, but failed to make a splash in the English-speaking world. This album also netted her three Billboard Latin Music Awards.
Her success increased with her following album. Thanks to the success of other Spanish-speaking artists, she enjoyed a significant amount of crossover success. The album was also praised by critics.
It was her next two albums, which were her first English language albums, that really solidified her international superstar status. These albums initally received a lukewarm response from critics, who felt her English was not strong enough to write meaningful lyrics. Some of her longtime fans were also upset at her decision to sing in English. However, songs like Underneath Your Clothes and Whatever, Wherever made major chart impacts around the world. Her duet with Wyclef Jean, Hips Don't Lie, was the best selling single of 2000 - 2010 and has become her signature song.
As of 2010, Shakira was working on a new album.
Keep Up with Shakira
Stay up to date with all the latest developments in the Shakira biography on her official website.