Musicians from the Early 1800s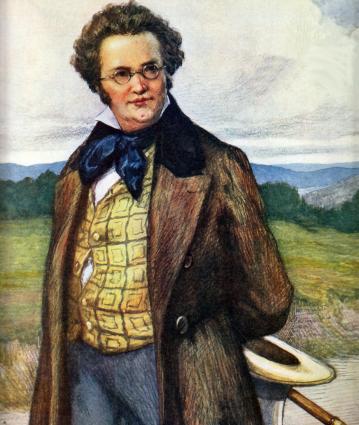 Many musicians from the early 1800s didn't achieve national or international stardom, being popular on a mostly regional basis. However, there are exceptions, particularly in the classical music realm. These musicians wrote works that are considered part of the Romantic Era and remain household names today.
List of Musicians and Composers
In modern times, listeners tend to think of musicians in terms of the instruments they play. However, musicians from the 1800s who are still known today were composers first and foremost. Today, composers tend to be known for their composition work rather than their performances, but in the 1800s, composers regularly performed their own material at concerts.
Ludwig van Beethoven
Beethoven is one of the most celebrated figures in classical music. A German pianist and composer, he is known for his concertos, symphonies, and piano sonatas. His music is profoundly inventive and comes alive with passion, virtuosity, and dynamic contrasts.
Louis Spohr
Spohr was a gifted violinist, conductor, and composer from Germany. He wrote symphonies, concertos, and operas. Though his music languishes largely forgotten today, it was celebrated during his lifetime for its expressiveness.
E. T. A. Hoffmann
E. T. A. Hoffman, a German, wrote choral music, works for the stage, and various instrumentals. In addition to composing music he also wrote fiction. His novella, The Nutcracker and the Mouse King, was the inspiration for Tchaikovsky's celebrated ballet, The Nutcracker.
Carl Maria Von Weber
A virtuoso pianist and composer, Weber was a powerful figure in the German Romantic movement. His best-known compositions are his operas, concertos, and quintets for woodwind instruments. His works are known for their emphasis on mood and theme.
Franz Schubert
Schubert was a prolific Austrian composer whose output was remarkable, given his short lifespan of only 31 years. He composed in a wide variety of styles, including operas, art songs, symphonies, and solo piano works. His music is celebrated for its innovative use of harmonic structures.
Franz Liszt
Liszt, a Hungarian pianist and composer, is widely considered to be one of the greatest pianists who has ever lived. He produced a tremendous body of work for piano, and its virtuosity and difficulty continues to challenge great pianists today.
Felix Mendelssohn
Mendelssohn, a pianist, organist, and composer from Germany, wrote in a variety of music styles, including concertos, symphonies, chamber music, and works for solo piano. His music is known for its energy and inventiveness and its distinctive sense of melody.
Frederic Chopin
A Polish composer and virtuoso pianist, Chopin is celebrated as one of the most outstanding figures in classical music. He composed a prodigious variety of works for solo piano, all of which are known for their melodic flair and innovative harmonies.
Hector Berlioz
Berlioz, a French composer, is best known for his contributions to orchestral repertoire, both his own music and his famous technical study of individual instruments. His orchestral music is known for its grand scale and scope as well as its originality.
Vincenzo Bellini
Bellini was an Italian composer of operas and was one of the most important figures in opera during his lifetime. His works epitomize the bel canto style of opera and are known for their sheer beauty, their smooth lyric lines, and the vocal flexibility they require of performers.
Gaetano Donizetti
Donizetti, an Italian opera composer, produced a remarkable body of work, including 60 operas as well as symphonies, cantatas, and chamber music. His contributions to bel canto opera are still celebrated and his works are known for their technical finesse and stylistic flexibility.
Robert Schumann
A virtuoso pianist and composer from Germany, Schumann composed a great many works for piano and orchestra as well as for solo piano. He is widely considered to be one of the greatest composers of the Romantic Era, and his work is known for its incredible sensitivity and how it translates even subtle moods into the language of music.
Giacomo Meyerbeer
Meyerbeer, a composer from Germany, was recognized as a significant figure in opera during his lifetime. He was an innovative composer whose works are heralded for striking use of contrast in the intricacies of their orchestration.
Richard Wagner
Wagner was a German composer who is still celebrated for his tremendous contributions to opera and operatic literature. He wrote operas on a grand scale, and his style was lush and complex, expertly weaving together a wide variety of thematic elements.
Fanny Mendelssohn
Mendelssohn, a German pianist and composer, is known for her works for solo piano as well as for her oratorios and chamber music. She never won recognition in her lifetime because of gender discrimination, but her work was rediscovered in the 1900s to wide acclaim.
Modest Mussorgsky
Mussorgsky is considered one of the most important Russian composers of the Romantic Era. Rebelling against the conventions of western music, he strove for a distinctive Russian sound in his operas and solo piano works. His music is known for its unapologetic originality and individuality.
Giuseppe Verdi
An Italian composer, Verdi is considered to be, along with Wagner, one of the most important figures in opera. His works were tremendously popular during his lifetime and are still heralded for the precision with which the musical structures convey dramatic themes.
Clara Schumann
A virtuoso pianist and composer from Germany, Schumann enjoyed a concert career that lasted 61 years. She was one of the paramount pianists of her time, and she also wrote works for the piano which are widely considered to display enormous tenderness and depth.
Johannes Brahms
Brahms, a German pianist and composer, is one of the most widely-honored figures in classical music. He composed a great deal of orchestral work, including symphonies, concertos and chamber music, as well as works for solo piano. His compositions are heralded for their incredible creative skill and expressiveness.
About Music in the 1800s
Music in the 1800s was incredibly diverse. Much of it was regionally produced and enjoyed, and it often centered around people's religious activities.
The Romantic Era
The style of music that gave the world the stars of the 1800s was Romantic music. This classical form of music was part of a broader trend in art, including literature and fine art. Many works of Romantic music were inspired by or created to accompany theater, literature, and visual art. The term "Romantic music" isn't used to describe music that is about romantic love, though that theme is present in some of the selections. Instead, Romantic music is more expressive and bold than the classical music that came before it. Contrast and dissonance were major features of the style.
The musical works also tended to be longer than previous pieces. During this time, musicians and composers developed individual styles like never before. It was during the 1800s that musicians began to shift away from performing traditional songs, and towards writing and performing original pieces with sounds so unique that listeners could identify the musician or composition by their individual styles. There was a particular link between Romantic music and poetry. Composers and poets tended to move in the same circles, and many Romantic pieces of music were created to complement poems. The poetry of Shelley and Byron was especially important to Romantic musicians.
Religious Music
In America in the early 1800s, the majority of music being produced was religious in nature. This is especially true of the sheet music books being produced during this time. Significant works of this period include Amazing Grace, Coronation, Evangelical Harmony, Plain Psalmody and Episcopalian Harmony.
Most music groups during this period that traveled around playing large shows were formed to sing spiritual music. Common people also enjoyed singing hymns, and in 1801, the first songbook featuring musical notation geared towards non-musicians was released. This book, Little and Smith's Little Instructor, was designed to make singing hymns in informal settings easier for non-musicians.
Traditional Music
Beyond religious music, traditional English, Scottish, Irish, and Welsh folk songs and ballads were also popular in America. These songs thrived especially among people in the country, who gathered at parties and social functions and sang these songs in music circles. They also used word books and put them to their own melodies to create songs, though many of these songs were strictly informal and did not spread beyond a community.
Explore Early 1800s Music
If you want to listen to music from the period, you have a number of options. You can check out Classical.com, where you can listen to unlimited music for free. A great place for free downloads of classical music is the Internet Archive's Community Audio channel, where you can enter the name of your favorite composer - for instance, Beethoven - and download available music.