Mobile Music Players With Equalizer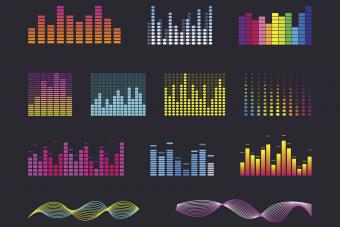 To borrow the language of graphic artists, equalizers (EQs) help make the colors of music pop. To be sure, recording artists do all the high-end EQ work in the studio, but having a mobile music player with a good equalizer allows you to customize the sound. These EQ apps, a mix of Apple and Android, will have your music popping in no time.
1. Equalizer Music Player (Android)
From GentleMan Dev Studio there comes the Equalizer Music Player, which delivers a feature-rich equalizer app for your Android device. This app has the following perks:
5-band equalizer with easy slider controls and convenient on/off switch
Volume slider and audio signal LED VU meter styled to look like an analog mixing board
Bass Boost feature
3D Surround Sound, which goes beyond stereo and gives you an immersive foreground and background audio experience
Can be used to EQ videos, not just audio tracks
EQ presets including Normal, Classic, Dance, Flat, Folk, Heavy, Hip hop, Jazz, Pop, Rock, R&B, Latin, Acoustic, Piano, Electronic, Vocal Booster, Deep
This app is free to download.
Pros: It has a very appealing visual experience and an excellent 3D Surround Sound feature. The app development support team also gives the app and its users a great deal of attention, and they seem very quick and thorough in their responses to complaints, as noted in the reviews and comments on Google Play.
Cons: It does not have an echo or pre-amp setting, which some advanced users requested. Some users had trouble playing m4a/aac files on the app, though it's not clear if that was the app or the phones of the users.
Out of over 136,000 reviews on Google Play, it has earned 4.4 out of 5 stars. Many of the reviews mention the excellent 3D Surround Sound feature, which seems to be the unique strength of this app. Users who did not like it complained about app bugs such as the EQ not working or the music not playing. It should be noted that on every complaint, the app developers responded quickly in the comments and went to work on fixing the bugs, which is always a good sign for an app.
2. VooDoo Sound Plus (Android)
If you're an advanced tech user with more of an IT, under-the-hood understanding of software and apps, the VooDoo Sound Plus for a wide variety of Android phones is a great fit. This impressive app will give you unique power features you can't find anywhere else. Features include:
Hi-fi sound setting gets the maximum potential out of smartphone technology and turns your phone into a "24-bit audiophile-grade audio player," as one reviewer described it
Customize analog level of your phone's headphone amplifier
Hack that allows you to re-map volume keys on phone
Advanced signal processing and bass boost
Jack plug-in safety, which never restores loud volumes when you plug it in (so that you don't accidentally blast yourself with loud tunes)
The cost of this app is about $3.
Pros: It has advanced power features that are one-of-a-kind. Although it is a bit more tricky than your average app, if you are not tech savvy, the developer offers email support and responds very quickly to questions.
Cons: You have to input root permissions from the original source of the app to gain access after you download it, and you must have more than just a basic understanding of tech. Your phone must have a "compatible kernel" in its software, as one of the reviewers noted with disappointment, as not all phones have the right software. (The app page shows which phones work with it.)
It has about 2,638 reviews on Google Play with an average rating of 4.7 stars out of 5 stars. As noted above, reviewers gave it stellar ratings for its professional-grade sound enhancement that has audiophiles salivating. Reviewers who rated it poorly were not able to install it, had trouble getting through the advanced steps noted above and couldn't get it resolved through email support.
3. Equalizer+ (iOS)
If you like a less demanding but high-quality app experience, the Equalizer+ is a good fit. It's an Apple-friendly app that gives you the following features:
Bass booster with high sound quality that automatically optimizes itself depending on the headphones being used
Ability to mix, edit and custom-craft your music with a nuanced 7-band equalizer and even play your song lists like a DJ using the audio transitions DJs would use
Offline mode that uses Dropbox and allows you to access your music libraries without needing Wi-Fi
iTunes library automatically appears on the app
10 equalizer presets including Flat, Pop, Rock, Electro, Dance, R&B, Hip-hop, Jazz, Acoustic, Classical
The cost of this app is free to download with most features available. To access some of the advanced features, you must upgrade to the premium version for about $2.99, and you can also purchase individual add-ons with in-app purchases ranging from about $1.99 to about $4.99.
Pros: It's low maintenance and does many things automatically, so it does not take as much effort to use. It has a 7-band equalizer and an excellent sound that has been rated positively by reviewers.
Cons: The in-app purchases can make the experience limiting if you don't want to shell out the dollars.
The Equalizer+ has a 3.8 stars rating out of 5 stars on the iTunes app store. In addition, Appicker gave it a very positive review, admiring the app's smooth operation and sound quality.
4. EQu (iOS)
The EQu app, besides many the perks mentioned above (multiple EQ presets, appealing slider design for adjusting EQ, visual effects), it features a linear phase design that preserves your music's strengths while enhancing EQ and avoiding spatial distortion. In other words, its powerful signal processing works hard to retain what's good about a mix before tweaking the equalizer profile of a song.
The cost of this app is about $2.99.
Pros: It makes weak sounding phones come alive, and it preserves the strengths of audio mixes while adding quality boost.
Cons: It has a great sound and it's a straight-forward EQ app, but it doesn't have quite as many special features and options (i.e. the bells and whistles) of some of the other apps.
Reviewers on the iTunes app store mention how the app makes cheap phones sound superb. Others describe the app's ease of use. Some reviewers rated it poorly because, after the iOS 11 update, the app would stop playing at inconvenient times such as when the phone went to sleep.
5. Equalizer FX (iOs and Android)
The Equalizer FX app has a precise visual frequency spectrum for fine-tuning the adjustments to your sound. Besides many of the usual features mentioned in these EQ apps, the Equalizer FX stands out for its Profile feature, which allows you to select your Profile (based on mood or style) and the app automatically adjusts the EQ profile of the music accordingly. Its "Reverberation" feature also allows you to add interesting effects.
The cost of this app is free.
Pros: It has some innovative creative features you can't find in other apps such as the Profile and Effects features.
Cons: Some users observed that the app wouldn't work properly on certain phones or with Spotify, though it didn't seem to be a widespread issue.
It received a 4.5 out of 5 stars from Apps4Review as linked above and 4 out of 5 stars out of 17,000 reviews on Google Play.
6. Equalizer (iOS)
The Equalizer app markets itself as having a superb parametric EQ. If you're a sound person who prefers the curved parametric approach in which you set "points" in the frequency spectrum to create curves in the EQ shape, you might like this app. It allows you to create "Q" points in the EQ, which you can adjust by pinching the screen and moving your fingers. This app is probably better for users with a more advanced understanding of audio mixing, but it is fun to play with even if you're new to more advanced sound equalization.
The cost of this app is about $3.99.
Pros: It uses a curved parametric approach.
Cons: It might be too technical for some users who may not how to take full advantage of its more advanced approach.
It is rated 3.5 stars out of 5 on the iTunes app store, but the positive reviews are notably enthusiastic. One reviewer mentioned he almost passed on it because of the lower rating, but he was glad he downloaded it after he heard how it complimented his high-end sound systems. The app seems to be well-liked among audiophiles.
7. Boom (iOS and Android)
The iOS Boom equalizer app, which is also available for Android, features 3D Surround Sound like the Equalizer Music Player for Android (the first app on this list). But unlike the Equalizer Music Player, the Boom app is available for both iPhone and Android. Its features, besides a well-received, fun sounding 3D Surround feature, include:
Customized playlists and presets
Connects to Dropbox or Google Drive so you can access your library without Wi-Fi
Audio Intensity function that allows you to fine-tune how your app handles your music
The cost of this app is free, though it has in-app purchases ranging from about $.99 to $3.99.
Pros: The 3D Surround Sound alone makes this app worth getting. The makers patented it, calling it their "3D Virtual Surround Audio Engine" that recreates the 3D depth of a concert experience.
Cons: Users reported occasional bugs, and the app is not always able to play every song on a playlist because of the DRM (Digital Rights Management) profiles of some tracks.
It received 4.4 stars out of 5 stars from 642 ratings on the Apple Store. Users who didn't rate it highly complained about it not playing every track in their library. The app would get to a track with DRM issues and would turn off and play the track using the phone's standard EQ. A user also reported that when this happened, she could no longer control the song while driving and using her steering wheel play functions.
Make Your Music Your Own
The modern world is all about customization. Sure, the commercial music industry is very uniform in the way big-name artists record and mix their tracks. But using a mobile music player with an equalizer gives you the chance to spice up the colors of the mix and make your favorite music a little more customized and personal.