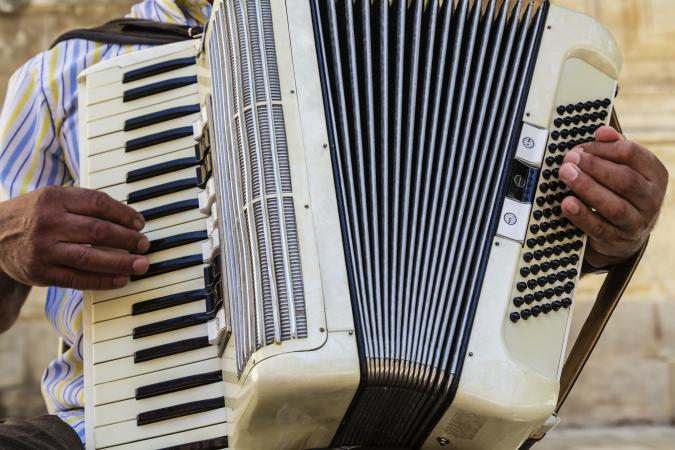 If you're from southern Louisiana, you'll likely recognize zydeco music the moment you hear it. It's a unique combination of styles, cultures and instruments. It is sometimes confused with Cajun music, but it has its own distinct musical flavor apart from Cajun.
Defining Zydeco Music
Zydeco music is a style of music based in southern Louisiana invented by the French Creole population in that region. It combines French, Caribbean, and American blues music to produce a wonderfully unique genre.
Sound
Zydeco has such a distinct sound thanks to its instruments: blues guitar, washboard, and accordion are usually the staple instruments, though it sometimes adds other side-instruments such as fiddle. It uses the moody pentatonic scales of blues guitar in a colorful context of French-style accordion playing and energetic Caribbean music.
History
The following breakdown of zydeco's history provides a glimpse of how this intriguing genre came to be:
The roots of zydeco begin 200 years ago when Cajun came to the New World from Europe.
When the English conquered Acadie in the 1700s, many Acadians were deported to New Orleans where life was dominated by French culture. They brought their music with them, which was a social-based musical style that involved singing, humming, clapping, and occasional instruments. This became known as Cajun music.
In the 20th century, the Cajun style collided with Louisiana culture and produced the "La La" style, a blend of Cajun and Louisiana Creole styles. As noted by the organizers of the Southwest Louisiana Zydeco Music Festival, the rural Creole community birthed the La La style of music by having get-togethers in living rooms of homes to boost morale and raise money.
In the 1940s, zydeco was born when La La music became heavily influenced by blues and rock and roll in the mid-century. Although the accordion remained the central instrument of the zydeco style, it was now surrounded by blues guitar moodiness, rock and roll energy, and rhythm & blues soul.
The term zydeco is a derivation of the French word for snap beans, les haricots, which is pronounced "lay zarico."
Significance
Zydeco represents a musical portrait of southern Louisiana culture and its rich heritage of varied musical traditions. The style of music can also be a fascinating symbol traditional folk music blending seamlessly with modern genres such as rock and roll and blues guitar technique.
In fact, zydeco's most popular artists have captivated the world their music, won Grammy awards, and drawn the attention and collaboration of some of the most famous mainstream musicians in the world.
Popular Zydeco Artists
The following artists represent some of the most popular zydeco artists who emerged after the genre solidified in the latter half of the 20th century.
Clifton Chenier
Known as the King of Zydeco, Clifton Chenier is not only credited with coining the term "zydeco," but he was the first zydeco artist to receive a Grammy on TV in 1984, which was the peak of his popularity just three years before his death in 1987. He was the son of a sharecropper and an amateur according player, and he got his start in the '40s and was signed to a label by 1954. Over the next few decades, he gradually grew in popularity and fame and helped establish the zydeco sound.
Queen Ida Guillory
Born in Lake Charles, Louisiana, Queen Ida grew up raised by Creole rice farmers. She listened to French lullabies and zydeco as a child. Her family moved to San Francisco, and as an adult she began to play accordion and sing in her brother's band. She became the leader of the band, and they secured gigs at the San Francisco Blues Festival and the Monterey Jazz Festival in the late '70s. This rocketed her career, and she won a Grammy in 1982 and became a zydeco legend.
Buckwheat Zydeco
Another Zydeco legend, Buckwheat Zydeco, got his start as Clifton Chenier's keyboard player. As he rose to prominence in the late '80s and early '90s after Clifton's death in 1987, Buckwheat became an international star when he performed at the closing ceremonies of the Olympics in Atlanta, Georgia in 1996. He also released the first mainstream label zydeco record when Island Records released his music in 1987, and he has played with a number of mainstream legends ranging from Eric Clapton to U2.
Zydeco's Irresistible, Unique Flavor
Like the savory, spicy, unique flavors of Louisiana food, zydeco has a taste all its own for music lovers. It blends an amazing variety of cultures, from American South to French Creole, and produces a style of music that seemingly exploded in popularity overnight in the '80s. It continues to captivate fans around the world today with its unique blend of styles.