Cape Cod Chamber Music Festival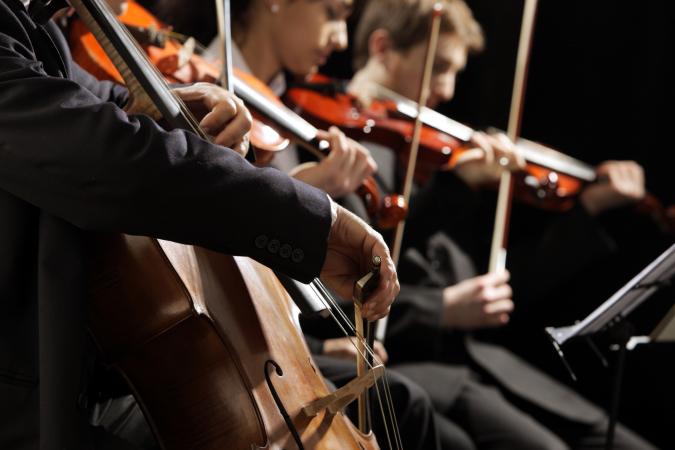 If you love listening to classical music in small, ensemble performances, look no further than the Cape Cod Chamber Music Festival (CCCMF), which has been held annually since 1979 and has been proclaimed a "triumph of quality" by the New York Times. The purpose of the CCCMF is to develop appreciation for chamber music by presenting concerts by world-renowned artists, as well as supporting and encouraging young, emerging artists.
How the Festival Works
Compared to many music festivals whose performances are concentrated into a weekend or a few days in a single location, the CCCMF is decidedly unconventional. It offers four weeks of concerts that are held in venues throughout the Cape Cod region.
Concert Schedule
The CCCMF typically features thirteen chamber music concerts, with the first concert debuting the final week of July and the bulk of the concerts being held throughout August. The concerts, featuring an impressive array of artists and ensembles, take place on weekdays and are scheduled for 7:30 in the evening.
Concert Locations
The concerts that comprise the CCCMF are held in arts centers and churches located in small towns across Cape Cod, a peninsula that extends from southeast Massachusetts into the Atlantic Ocean. The towns that hosted the 2016 CCCMF included Chatham, Provincetown, Cotuit, Orleans, Wellfleet, and Dennis, and several of the venues included Dennis Union Church, the Cotuit Center for the Arts, and Orleans United Methodist Church. You'll find addresses, phone numbers, and maps to each of the various venues on the CCCMF website.
Ticket Information
Tickets are available on a per concert basis. If possible, you should purchase your tickets in advance, since the sizes of the venues vary with regard to seating, and tickets to the concert or concerts of your choice might sell out.
Types of Tickets
Here's another reason to buy CCCMF tickets early: after the last day of June for the year of the upcoming season, ticket prices go up a bit. To get the best possible deal, buy your concert tickets by June 30.
General Admission tickets to any concert cost $34, except for specific ensemble performances such as the Emerson String Quartet, which run $50 per ticket. After June 30, General Admission tickets go up to $38, and Emerson String Quartet tickets go up to $55.
Student tickets are available to students over eighteen years old, and they cost $15.
Free Admission is offered to people who are eighteen and under.
Series tickets are a great idea if you want to purchase tickets to three or more concerts. Through June 30, the Series ticket price is $32, and after June 30, the price goes up to $36.
Special Benefit Premium tickets range from $100 to $125, and they give you access to reserved seating and to receptions which take place either before or after selected concerts.
How to Buy Tickets
You have a number of options for purchasing tickets. No matter which method you choose, though, your tickets will be held for you at the box office to pick up when you attend the concert or concerts. You can purchase tickets online, by telephone, or by mail order. If you prefer, you could stop by the CCCMF office in person during business hours, or you can buy tickets at the venue door on the night of any concert.
History
The festival was created by Samuel Sanders, a collaborative pianist who served as the festival's artistic director for fourteen years. From 1966 to 1999, Sanders accompanied and recorded with renowned violinist Itzhak Perlman. He also worked with a number of other artists like cellist Yo-Yo Ma, opera singer Beverly Sills, and violinist Pinchas Zukerman, as well as frequently performing with string quartets. Sanders' goal in establishing the CCCMF was to bring world-class chamber music to Cape Cod.
Current Directors
Today's directors continue Samuel Sanders' mission by bringing in well-established musicians along with up-and-coming new talent. The festival's executive director is Elaine Lipton, whose experience with management of nonprofit organizations helps her broaden the festival's outreach to the public. The artistic directors, pianist Jon Nakamatsu and clarinetist Jon Manasse, are musical collaborators who perform regularly for the festival as the Manasse/Nakamatsu Duo. Lipton, Nakamatsu, and Manasse have all been with the CCCMF since 2006.
Jon Nakamatsu
Nakamatsu has been garnering attention for his brilliant work at the piano since 1997, when he won the Van Cliburn International Piano Competition by playing the notoriously difficult and intricate Rachmaninoff's Piano Concerto No. 3. Since then, he has been a celebrated performer, whether solo, with orchestras, or with chamber music ensembles. He performed at the White House in 1999, and he has released twelve CDs to stellar acclaim.
Jon Manasse
Manasse graduated from the Juilliard School and was the youngest person ever to win the International Clarinet Society Competition. He's the principal clarinetist for both the Mostly Mozart Festival Orchestra and the American Ballet Theater Orchestra. He has performed widely, both as a solo artist and with his musical partner, Nakamatsu. Manasse has toured all over the world and has released six CDs to rave reviews.
Performances and Performers
The festival features a month of captivating music, performed by artists with diverse and impressive repertoires. Fans of chamber music are sure to find much to their liking in the concerts that are featured.
A Sampling of Performers
Some of the artists who perform at the CCCMF have played for the festival on a regular basis, while others are up-and-coming young musicians making their festival debuts. All the artists have one thing in common: musical talent and exquisite skill at their instruments, whether woodwinds, strings, piano, or voice.
The Emerson String Quartet, a world famous string ensemble, have been performing professionally since 1976 and have won numerous awards, including nine Grammy Awards, with two of those being for Best Classical Album. In 2016 for the CCCMF, they performed string quartets composed by Franz Schubert, Pyotr Ilyich Tchaikovsky, and Dmitri Shostakovich.
Imani Winds is a wind quintet made up of musicians who are African American and Latin American, and they bring excellence and cultural diversity to the classical music sonic palette. Active since 1997, Imani Winds has achieved international acclaim. Making their debut at the CCCMF in 2016, they performed music by Maurice Ravel, Anders Hillborg, and Francis Poulenc.
The Borromeo String Quartet got its start in 1989, and their numerous professional credits include work with the Lincoln Center Chamber Music Society and the Library of Congress, both as performers and teachers. For their 2016 CCCMF concert, they performed compositions by Dmitri Shostakovich, Ludwig van Beethoven, and György Ligeti.
Pianist Brian Zeger is a regular performer at the CCCMF, and he served the festival as its artistic director from 1993 to 2000. He currently serves as artistic director of the Marcus Institute for Vocal Arts at the Juilliard School and has enjoyed an extensive concert career. Performing for the CCCMF in 2016, he appeared for two concerts with Imani Winds in a series called Brian Zeger Returns With Imani.
Marika Bournaki starred in the classical music documentary I Am Not a Rock Star, which documents her growing up as a gifted young piano prodigy. Bournaki earned a Bachelor's degree from the Juilliard School and has given performances worldwide. In 2015, she performed for the CCCMF alongside the Manasse/Nakamatsu Duo, and they played music by Johannes Brahms, Luigi Boccherini, and Robert Schumann.

Tempest Trio is composed of cellist Amit Peled, pianist Alon Goldstein, and violinist Ilya Kalyer. Each member of the group is a virtuoso musician with a successful solo career, and together, they make a magical musical trio. Performing for the CCCMF in 2016, they played works for piano, violin, and cello composed by Leonard Bernstein, Ludwig van Beethoven, and Antonín Dvořák.
Concert Reviews
Concerts presented by the festival have garnered tremendous critical acclaim throughout the years. For fans of chamber music, each concert is a delight, with its own unique mood and ambience.
Recent Performances of Note
While the festival has hosted innumerable memorable concerts throughout the years, there have been special performances of particular import to the festival. Whether they celebrate the festival itself or its milestones, these concerts continue to serve well the festival's stated mission: to develop people's love and appreciation for chamber music and bring it to a wider audience.
Tribute to Founder Samuel Sanders - On August 15, 2014, the CCCMF held what was referred to by Nakamatsu as a "retro concert." All the performers were people who had known pianist Samuel Sanders, the founder of the festival, and the intent was to honor Sanders and celebrate the festival's 35th anniversary. The musicians performed pieces that brought Sanders to everyone's minds, including works by Mendelssohn, Kreisler, Crumb, Debussy, Ravel, and Brahms. The Cape Cod Times praised the concert, calling it one of those performances you wish would "never have to end."
NEA Grant and The Next Generation - On July 29, 2016, the festival's opening concert, The Next Generation, saw the premiere of Jonathan Bailey Holland's Forged Sanctuaries. The composition was made possible by a grant from the National Endowment for the Arts, which included a tour commemorating the centennial of the National Parks Service. The new music was performed alongside works by Elgar and Schubert by Curtis On Tour, a touring group of alumni, faculty, and student musicians from the Curtis School of Music. This special concert provided the perfect kickoff to a season that celebrated the 50th anniversary of the NEA and the 10th anniversary of festival directors Lipton, Manasse, and Nakamatsu.
A Musical Tradition
Over the decades since its inception, the Cape Cod Chamber Music Festival has become a deeply rooted and well-loved musical tradition. Given the talent, passion, and dedication of everyone involved with the festival, there can be no doubt that the tradition will continue for the benefit and enjoyment of current and future generations.