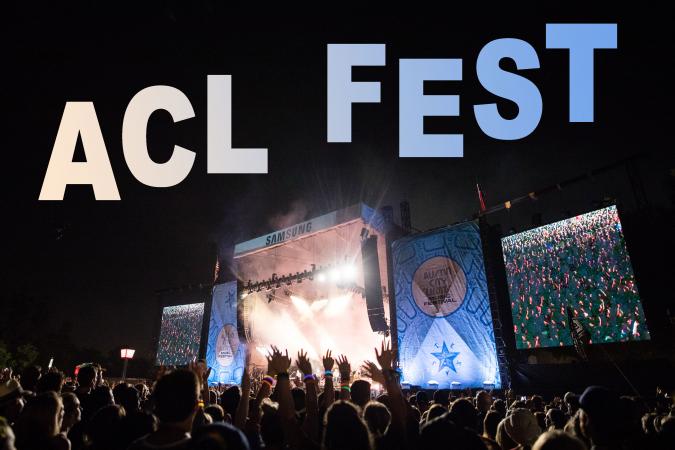 The Austin City Limits Music Festival has been held annually ever since it began in 2002, growing into a truly epic and much sought after music experience. Austin, Texas is widely regarded as the Live Music Capital of the World, and in 2015, over 450,000 fans poured into the city for the festival, which Forbes acclaimed as one of the 5 American Music Festivals to Look Forward To.
Logistics
In 2013, the festival expanded to an annual event that takes place over two consecutive weekends in the early fall, usually the first two weekends in October. Each weekend runs three days long, from Friday to Sunday and each day, the festival opens at 11:00 a.m. and closes at 10:00 p.m. In 2016, the festival occurred from September 30 to October 2 for the first weekend, then from October 7 to October 9 for the second weekend.
Location and Transportation
The festival takes place at Zilker Park, which spans 351 acres and is the best-known metropolitan park in Austin, Texas. You have several options for traveling to the festival and getting around once you're there.
Air travel - Flying is a good way to get to Austin for the festival, but you need to buy your plane tickets well in advance to get good prices.
Car - If you plan to drive your car, you need to know you won't be able to park any closer than about a mile from Zilker Park. Parking isn't allowed in Zilker Park during the festival, and you won't be allowed to park in the surrounding neighborhoods, either. You could park your car at the Palmer Event Center or One Texas Center, but you would need to walk a mile to a mile-and-a-half to the festival.
Shuttle - Once you're in Austin, the best way to travel to and from the festival is to use the Complimentary Official Festival Shuttles. You'll board the shuttle at the corner of 4th Street and Guadelupe Street, known as Republic Square, and ride directly to the entrance of the festival. At the end of the day, get back on the shuttle to go back to Republic Square.
Other Options - CapMetro buses, biking, and walking are other means of getting to and from the festival. Biking is especially encouraged. At each of the festival entrance gates, you'll find bicycle racks. There's also a hike-and-bike trail you can use to walk to Zilker Park.
Ticket Information
You can purchase tickets to the festival online. The closer you get to the festival dates, the quicker the tickets go, so if you're planning a weekend, you'll definitely want to get your tickets before they sell out. After you purchase tickets, you'll be issued an RFID-enabled wristband, which is required for entrance to the festival.
Lodging Options
When you're not rocking at the festival, you'll want to have a place to stay for the night.
House Rentals - You might want to rent a house or a condo in Austin on a per night basis. Cost varies widely, ranging from around $100 to $400 a night.
Hotels - Austin has plenty of hotels, but since the festival is such a huge event, you will need to snag your room early, because hotels fill up fast. If you and your buddies need both a hotel room and tickets, you might want to consider one of the festival hotel packages.
Camping - For a down-to-earth festival experience, you might want to try camping. There are plenty of campsites in the Austin area, but be sure to make plans for how you'll get from the campsite to the festival.
Music
Music is central to the whole festival experience, and true musical luminaries have dazzled its eight stages throughout the years, including The Eagles, Beck, Kings of Leon, Arcade Fire, Red Hot Chili Peppers, and Muse, to name only a few. The festival started out featuring mainly local Texas talent, but it quickly grew and attracted top-notch artists from all over the world. The festival features 110 bands that perform on eight stages, between 35 and 40 acts performing each day, representing a gigantic swath of musical genres and styles. There's truly something for everyone's tastes.
Top 2016 Acts
For the 2016 ACL Festival, the headline acts were Radiohead, LCD Sound System, Mumford & Sons, and Kendrick Lamar, who comprise a cross-section of music genres including art rock, electronica, folk, and rap. The festival has continued to honor its country music roots in the 2016 performances, with such artists as Willie Nelson, Maren Morris, and Margo Price. Asleep at the Wheel, an Austin-based, Grammy Award-winning western swing band, also performed, as they have done every year since the first ACL festival in 2002.
Top 2015 Acts
The 2015 ACL Festival featured a diverse sonic palette of genres, from post-grunge to blues rock to baroque pop. The event was headlined the first weekend by Foo Fighters, Alabama Shakes, and The Strokes. The second weekend saw headliner performances by Florence and the Machine, Disclosure, and Chance the Rapper. According to Billboard, some of the best performances of 2015 were those by Austin-based pop band Calliope Musicals, singer-songwriter Father John Misty, and country artist Dwight Yoakam.
Top 2014 Acts
In 2014, the festival engaged in serious rocking and rapping. According to Rolling Stone, grunge rockers Pearl Jam wowed the crowd with music that verged on hard-rocking punk before playing some of their 1990s tunes and covering Neil Young's famous song Rocking in the Free World. By the time Eminem took the stage the next day, the crowd had grown enormous. The edgy rapper from Detroit served up a helping of his hard-hitting songs, including Lose Yourself, which was accompanied by fireworks.
Other Activities
While music is the star attraction at the festival, you'll find plenty of other things to love. It is a treat not only for your ears, but also for your palate, your kids, and your shopping bag.
ACL Eats
Festival goers come with a hearty appetite for music, but next in line would be their appetite for the delicious food served by vendors at ACL Eats, the food court. You'll be able to buy food from opening to closing time, all over the park, and the vendors accept cash, as well as debit and credit cards. You can also sign up for ACL Cashless, which will link your credit or debit card to your RFID wristband. You can then pay for your food with a simple tap of the wrist.
The food offerings at the festival are nearly as diverse as the musical offerings. You'll find everything from barbecue to pizza to ice cream. Need vegetarian or gluten-free eats? Fear not, the vendors have got you covered. A small sampling of festival vendors includes:
Austin Kiddie Limits
For kids who attend the festival, there's something extra-special: Austin Kiddie Limits, which is available each day on both weekends from 11:00 a.m. to 7:00 p.m. Kids can rock out with a smorgasbord of fun and engaging activities, including dance parties, circus acts, fun with drums, temporary tattoos, and great bands for family jams. Children under ten years old get into the festival free with their ticketed parents.
Art Market
The Art Market is your source for festival merch, as well as distinctive arts and crafts. Art vendors sell their wares throughout the festival, whether fashion accessories, clothes, hats and caps, leather goods, watercolor paintings, jewelry, or custom-built electric guitars.
Pros and Cons
The festival is, by most people's measure, a "blinding success," and that's why it has thrived and grown each year since its inception. For concert-goers, it combines a tremendous range of musical expression with a spacious, attractive environment that's capable of holding the ever-growing crowds. The event is cited as a festival from which other festivals could learn a great deal, especially with regard to keeping the venue clean and allowing attendees to bring chairs.
When it comes to what the festival could do better, people cite narrow, crowded, high-traffic areas, which make it challenging to get from one place to another. People who don't like the music festival vibe won't be crazy about ACL either, since, like other big-name festivals, it's crowded and hot, tickets quickly sell out, the food is pricey, and many people drink alcohol.
A Fabulous Festival Experience
If you're hankering to attend a music festival where you can see some of your favorite acts live, discover outstanding new music, and share a community spirit with thousands of other music fans, you will definitely want to check out the ACL festival. With its top-notch musical lineups, great food, and outstanding venue, the event truly deserves its high acclaim as one of the very best of the fests.