Legal Music Sharing Options
As fun as music sharing online can be, it's important to stick to the legal options. Over the last 16 years, the music industry has not only gone to war against illegal music sharing, it has striven to provide as many quality legal alternatives as possible. In other words, there's no good reason to engage in illegal music sharing, especially when so many excellent legal options exist.
1. Facebook Messenger
The overwhelming popularity of Facebook makes its Messenger app a top choice for music sharing.
What It Is
Facebook Messenger is a separate app within Facebook that allows users to communicate in a way similar to text messaging. Messenger facilitates legal music sharing through its integration with Spotify.
How It Works
While in a conversation on Messenger, click the "..." icon, scroll down the list of app integrations to Spotify. Click Spotify and select the music you want to share.
Pros
It is quick and easy to use, and it is in a messaging app that many people have, so chances are you can share music with most of the people you know.
Cons
It is only limited to Spotify, so you must download the Spotify app and sign up for a Spotify account to use the feature. Spotify is free to use with limited access, but it costs $9.99 per month for premium access. The recipient of the music must also be on Spotify.
Bottom Line
The exciting thing about Facebook Messenger is that Facebook is aggressive about adding new integrations. It might not be long until it adds new music sharing options beyond Spotify.
2. WhatsApp
If you love the privacy-first, encrypted virtue of WhatsApp, you will be happy to hear it is integrated with Spotify too.
What It Is
WhatsApp prides itself in offering free text messaging, phone, and video calls with end-to-end encryption. It uses the phone's connection to the Internet, not its carrier's voice or text plan, to make calls or texts.
How It Works
WhatsApp integrates with Spotify though the sharing must begin in Spotify. Once you've found music you want to share on Spotify:
Click the "..." icon in Spotify.
Select "Share."
Click "Send to."
Select WhatsApp. Spotify will open the app and prepare a new text message for you with a link to the music.
Pros
Once you get used to using the Spotify app, music sharing fits seamlessly into your text messaging life, especially if you already use WhatsApp.
Cons
Like Facebook Messenger, it is limited to Spotify only, which is free to use with limited access unless you get the paid subscription. And unlike Facebook Messenger, you aren't able to begin the sharing process directly within WhatsApp. You must take the extra step of opening the Spotify app before you can share on WhatsApp.
Bottom Line
The nice thing about sharing music on the super-encrypted WhatsApp is its sense of privacy and seclusion, like sitting down in someone's living room and listening to a new album together.
3. Legal Sharing via Email
It is legal to share music via email through legitimate music streaming platforms as long as you allow the platform to facilitate the sharing. It can be a nice way to share music with someone whose email address is their preferred contact method.
What It Is
For example, both Spotify and Pandora allow you to share music with others via email. This legal method of sharing is always initiated from within a legitimate platform. It is not legal to upload an mp3 and email it to a friend if you have not been given permission by the artist or record label to do so. It is not that kind of email sharing, in other words.
How It Works
The process begins directly on the music sharing service:
For Spotify, while listening to music, click on the sharing icon as described in the WhatsApp section.
For Pandora, click the arrow next to the song's title. A menu will appear with similar sharing icons and options as Spotify. Simply select the email icon, and the app creates an email for you.
Pros
It allows you to share music in a more direct way by placing a link to the music you're enjoying in a friend's inbox.
Cons
It sends a link to the email recipient, which means the recipient must have the Spotify or Pandora app to open your link and enjoy the music. While both Spotify and Pandora are free to use, some of their features are limited unless you get a premium subscription. Spotify is $9.99 per month; Pandora is $4.99 per month (as of the date of this article's publication).
Bottom Line
This option is great for sharing music with friends or family members who are email diehards and prefer handling all communications via their favorite email account.
4. Spotify
The points above have already touched on some of the peripheral features of Spotify - mainly integrations with apps outside of Spotify. But within Spotify itself there are wonderful ways to share music.
What It Is
Spotify is a streaming music service that legally acquires rights to songs and allows users to stream those songs via the Spotify app or website.
How It Works
Spotify offers some fascinating features for music sharing. You can do standard things--follow fellow users, send them songs or chat with them--but there's also the Friend Feed that allows you to view what your friends are listening to in real-time and, if you want, jump in on their listening session and get to know their musical tastes.
Pros
The Friends Feed is especially fun. It is an interesting mix of social media engagement, people watching, and music sharing.
Cons
Full access to the service requires a paid subscription. They push the paid version heavily and bombard you with ads to motivate you to upgrade.
Bottom Line
The successful Swedish company that launched Spotify continues to grow and compete, so expect to see more fun music sharing options within the Spotify platform.
5. Beats by Dr. Dre (Music Sharing Headphones)
Professional recording artists and hardcore music fans know this: no music experience, save perhaps for movie theater audio, compares to quality headphones. The intimate proximity to the stereo field allows the listener to hear all of "pan lefts" and "pan rights" and other nuances baked into the song's mix. It's not surprising then that sharable headphones like Beats by Dr. Dre have become popular.
What It Is
These specially designed headphones allow you to share the listening experience with other music fans who own Beats headphones.
How It Works
The headphones have both input and output jacks so you can plug your music player into your headphones and attach someone else's headphones to your headphones with another cord.
Pros
Beats by Dr. Dre headphones are designed to have the same sound quality that an artist hears in the recording studio using premium acoustic technology. The intimacy of the headphone experience allows you to share your favorite music with others in the amazing sound space that the high-end Beats headphones provide.
Cons
The cords can be annoying and can limit your activity while listening to the music together. Beats by Dr. Dre headphones can also be quite pricey. Beats EP, for example, pitched as a good starter headphone for people new to Beats, costs $99. It only goes up from there.
Bottom Line
If you have the room in your budget and you've always loved the way music sounds on big, bulging headphones that are acoustically tuned to perfection but make you look like an air traffic controller, then this music sharing option will be sonic bliss.
6. Home Sharing
With the advent of smart homes and device networks, it's not surprising that a digital music sharing option involving homes would be on this list.
What It Is
Home sharing, as seen with Apple's music sharing option, allows you to share the music from your iTunes library freely with all devices--i. e. iPhone, iPad, iPod touch, Mac, PC, or Apple TV--connected to your home network. (Side-note: their general non-music Home Sharing option also allows you to stream any content across any Apple device in your home that's signed into the same Apple ID account.)
How It Works
For Apple's home music sharing option, the following instructions, according to Apple support, outline the basic steps:
Open your iTunes.

On a Mac: On the menu bar, choose iTunes > Preferences.

On a Windows PC: At the top of iTunes window in the menu bar, choose Edit > Preferences.

Click on the Sharing tab.

Select "Share my library on my local network." You can choose what you share.

If you'd like to password protect the music, click "Require password." Enter a password.

Click OK.
You can also customize your library and view shared libraries as the Apple support notes (linked above) explain.
Pros
It's a cost-effective way to get the most out of your iTunes library, and it's a fun way to bond with your family or housemates by creating a shared music experience across an entire household.
Cons
Managing a home network of devices and accounts can be tedious and turn your home life into a part-time IT job. Many consumers, turned off by our over-reliance on digital technology, have preferred a more analog approach and returned to vinyl. As nice as tech can be, sometimes just putting a record on the record player is simpler and just as communal.
Bottom Line
Smart homes are still catching on across an increasingly tech-dependent culture, but thanks to companies such as Apple it's clear music will always play a big part of evolving smart home technology.
7. Pandora
While similar to Spotify in its concept and capabilities, Pandora offers a unique selling point: it does the curating work for you.
What It Is
Like Spotify, Pandora is a music streaming service, and it allows the same basic music sharing options as Spotify. Its unique selling point is its recommendation engine known as the Music Genome Project. Basically a radio DJ with Artificial Intelligence, it selects songs for you based on your interests and how you respond to each song. Minimum work is required.
How It Works
Its music sharing features are almost identical to Spotify. You can share your music selections via email and social media, but the concept focuses less on playlist building and more on creating personalized radio stations, which you can then share with your friends. It also has a similar music "friend feed" screen that allows you to interact with other followers.
Pros
It's less labor-intensive if you're more inclined to just press play and move on with your life. Its premium version is only $4.99 versus Spotify's $9.99.
Cons
It doesn't have the same detail-oriented playlist building emphasis that Spotify has.
Bottom Line
Pandora takes the work out of music sharing for you, thanks to its unique Music Genome brain. Although not as customizable as Spotify, its unique algorithm makes it an attractive option for people who are busy and have less time to tinker with playlists.
8. Embedding on a Website
This is an often overlooked option for sharing music, especially for people who already own blogs or large websites. In this scenario, it can be fun to add a new page on your blog or website dedicated solely to sharing the music you love.
What It Is
For people who have their own website, whether for personal or professional reasons, the music streaming services mentioned in this article allow you to embed your playlists and stations on a webpage using copy-and-paste code.
How It Works
Embedding code means you are placing code written by the music streaming service directly into the HTML of your site. You're allowing the music service to transmit information from your music profile to your website using this code. Pandora and Spotify both offer instructions for doing so.
Pros
It is a fun way to introduce readers of your website to your musical tastes, and it also gives you a measure of control over how you share your music with others. For example, website design gives you freedom to put multiple embedded objects--i.e. streams from both Spotify or Pandora--on one webpage.
Cons
It is more technically demanding and difficult to achieve, especially if you don't already own a website.
Err On the Side of Caution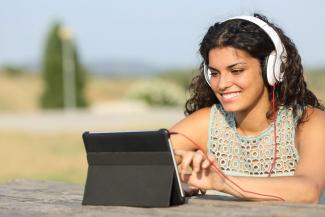 The music industry's efforts to protect itself with copyright law have become robust and effective since the Wild West days of the Internet in the early 2000s when rogue sites like Napster caught record labels and artists off-guard.
Things have changed, to say the least.
For that reason, it is always better to err on the side of caution when engaging in digital music sharing. Be wary of free music sharing sites run by unknown owners or brands. Stick to the well-known streaming services listed above that have legitimate contracts with artists and record labels for music sharing.
Most importantly, never upload and stream music files online on any platform--even YouTube (which has become infamous for its users infringing on copyrights)--if the artist or the artist's record label has not given you permission to do so. That form of music sharing will always be illegal, no matter where or how you do it, as this lawyer explains.
Options For Sharing
With these eight options, most consumers stick to what they know, and they settle into comfortable routines of music sharing. Why not pick a new music sharing option from the list above and explore its possibilities? You might make new friends and deepen your relationships by broadening your music sharing experiences.