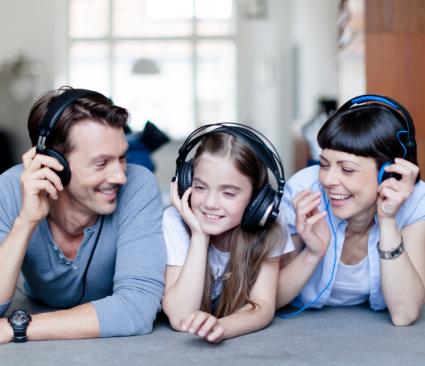 Family is one of the most treasured, complicated, and multifaceted parts of life. In song, artists can employ the universal language of music to illuminate myriad aspects of the family experience, from which fans can draw joy, comfort, and hope. These songs address the concept of family from numerous different angles
Country Songs
Whether sad, sentimental, or a combination of both, great country songs can elicit smiles, laughter, and tears from listeners.
Through the Years by Kenny Rogers
Through the Years is one of Kenny Rogers' 24 number one hits, and it's not hard to see why. The song quickly became a favorite for describing, by means of its warmly delivered lyrics and its smooth style, a couple whose marriage lasts over many decades, weathering good times and bad times and providing a strong foundation for their family. The song conveys a strong sense of gratitude for the shared experience of family love that lasts a lifetime.
I Hope You Dance by Lee Ann Womack
Called Lee Ann Womack's signature song, I Hope You Dance offers words of wisdom from a mother to her young daughter about how to live and love. The mother urges her daughter to go out and live her life and to actively make choices and take chances instead of sitting it out and playing things safe. The song shows how young people often learn the most important lessons of life at the knee of a loving, caring family member.
Only a Dream by Mary Chapin Carpenter
Mary Chapin Carpenter's beautiful and melancholy song Only a Dream recounts the story of two siblings and their painful growing-up years with parents who couldn't get along and who ultimately split up. The heartfelt lyrics combined with the gentle accompanying chords on piano speak to a bittersweet juxtaposition of warm, happy memories and cold, painful ones, and how a family's pain can reverberate down through the years.
Daddy Sang Bass by Johnny Cash
Written by Carl Perkins and recorded by Johnny Cash, Daddy Sang Bass hit number one on the Billboard country charts and stayed there for six weeks. It tells the story of a family who didn't have much money but they had plenty of love, and they enjoyed celebrating that love by regularly singing together. With its happy beat, the song describes how a family's joy in their togetherness and their mutual love of music was able to triumph over financial hardships and day-to-day troubles.
Classic Rock
Look no further than the classic rock genre to find songs that explore the many facets of the family experience, including the tougher issues, in a way that rings true.
Cat's in the Cradle by Harry Chapin
Cat's in the Cradle is a cautionary song about a father who is too busy to find the time to play with his young son, only to discover years later, that his grown son has followed his example and no longer has time for him. Harry Chapin won a Grammy Award for Cat's in the Cradle, and the song topped the charts following its release in 1974.
Mother by Pink Floyd
Mother, from Pink Floyd's smash hit concept album The Wall, is a musically intricate and melancholy song about a troubled rock star's relationship with his overprotective and controlling mother. The song addresses issues of identity, self determination, and coming of age in the context of a parent who, while well-meaning, tries too hard to determine the course of her son's life.
Family Affair by Sly and the Family Stone
Sly and the Family Stone's number one hit Family Affair features a funky beat with lyrics that express the strength of family bonds and how, once you're in a family, you're in it for life regardless of the various challenges that family members might face. Sly Stone was asked by Rolling Stone Magazine if the lyrics referred to his own family or his relationship with his band, and he said no, that they were about family relationships in general, whether genetic or environmental.
Teach Your Children by Crosby, Stills, Nash & Young
Teach Your Children is a timeless song about the importance of wise and thoughtful parenting. With their seamless vocal harmonies, Crosby, Stills, Nash & Young seek to impart to their listeners that parents must carefully consider the kinds of messages that they, and society at large, give to children, so as to build a better world for everybody.
Pop Music
The pop music genre offers plenty of gems that speak eloquently to different experiences of family.
Keep It Together by Madonna
In Keep It Together Madonna sings of the unconditional love and support she received from her family, despite the ups and downs she experienced growing up. When she was young she might have resented the squabbles and the hand-me-downs that were part of her childhood but as an adult, she has learned to prioritize family love and togetherness, which are the "gold" in life. The upbeat tempo of the song serves to reinforce its positive message.
We Are Family by Sister Sledge
We Are Family is a triumphant song of sisterly unity, support, and solidarity, and over the years it's become an anthem of sorts for family togetherness. The lyrics to the song describe the family motto of the sisters, which is to always have faith in themselves and faith in each other. The song struck a strong chord with music fans, reaching number one on Billboard's R & B chart and number two on the Hot 100.
The Living Years by Mike and the Mechanics
The Living Years is a powerful, bittersweet song about the generation gap between father and son. The lyrics describe a son who has grown distant from his father because of their disagreements. When the father passes away the son is filled with regret because it's now too late to tell his father what was truly in his heart, but he cherishes the continuation of the spirit of his dad in his newborn baby.
Ode to My Family by The Cranberries
In Ode to My Family, Dolores O'Riordan of The Cranberries sings about her longing for her growing-up years, which were filled with family love even if she and her family didn't always see eye to eye. The lyrics to this pensive song speak to the truth that many people experience in adulthood, that compared to the complexity of adult life, those formative years with family retain an enduring, if not always simple, appeal.
A Good Time for Music
In today's hectic world it's important to prioritize quality time with loved ones, and family time is always an excellent time for music. Listening to songs about family that touch the heart or inspire thought and reflection is a great way to spend time together to reminisce, reflect, and celebrate love, togetherness, and the strong ties of kinship.