What Is Jennifer Hudson Doing Now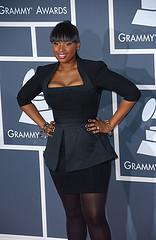 American Idol fans who enjoyed watching her on stage in that competition and her subsequent rise to fame may find themselves wondering, "What is Jennifer Hudson doing now?" The multi-talented singer and actress is one of the most successful Idol alums, despite not going all the way in the competition. She has conquered stage, screen and even advertising and continues to go from strength to strength.
What Is Jennifer Hudson Doing Now - Career
From her first American Idol appearance, the judges - especially the notoriously harsh Simon Cowell - rated Hudson as a special talent, but that didn't stop her from finishing the show in seventh place. Though some blamed her early departure from the show on thunderstorms that knocked out phone service in her Chicago hometown during the voting period for her final episode, Hudson nevertheless finished Idol in a place that usually means a return to obscurity for most contestants.
Not so for Hudson. In 2005, not long after wrapping Idol, Hudson was cast in the movie Dreamgirls. This role proved to be a breakout for Hudson. Starring alongside Beyonce in the movie about the ups and downs of a 1960s girl group, loosely based on the story of The Supremes, Hudson stole the show for her singing and acting chops. The role of Effie White earned Hudson a whopping 29 awards and comparisons to everyone from Bette Midler to Aretha Franklin.
Since Dreamgirls, Hudson has continued her acting career in movies like Sex and The City, The Secret Life of Bees and Fragment.
Post-Idol, Hudson has also continued her music career. Her self-titled debut album garnered several Grammy nominations, and from 2006 - 2009, Hudson toured extensively with many different artists, including Robin Thicke. In late 2009, word emerged that Hudson had begun the early stages of work on her follow-up release. Soul singer Ne-Yo, who penned most of Hudson's first release, was brought on board to work on the sophomore album as well. At the time of writing, no release date was set.
Hudson has also loaned her voice to several benefits in between other projects and in 2010 became the spokesperson for Weight Watchers.
Personal Life
No answer to the question "What is Jennifer Hudson doing now" would be complete without looking at her personal life. The star has gone through a series of high profile personal highs and lows since her Idol days.
In 2007, Hudson began dating David Otunga, a Harvard Law graduate who gained some degree of fame when he competed under the name Punk on VH1's I Love New York 2. Otunga and Hudson became engaged in September, 2008, on her 27th birthday. The couple had a son in August, 2009, who they named David Daniel Otunga.
These events were overshadowed by tragedy for Hudson. In October, 2008, just a few weeks after she became engaged, Hudson's mother and brother were discovered shot to death in the home they shared.
After the murders, Hudson bowed out of the public eye to grieve. In February, 2009, she returned to her music career when she sang The Star Spangled Banner at the Super Bowl to a standing ovation.
Jennifer Hudson Future Plans
After a short break, Jennifer Hudson plans to spend 2010 recording a second album and touring. You can keep up with all of the latest Jennifer Hudson news on her official website.