Pop Sensation Katy Perry
Katy Perry has never been shy about trying new hair colors. Early in her career as a teenager she changed her hair from blonde to raven black, which became her signature look. Since then she has experimented with pink, purple, blue and lavender dyes. It's anyone's guess which shade she'll choose next.
In this 2012 pic at the Chinese Theatre, Katy shows off her luminous purple highlights for the premier of her film Katy Perry: Part of Me.
Playing It Cool
Katy's path to dying her hair began with a mistake, according to her June 2013 interview with Vogue magazine. At the age of 15, after a failed attempt at bleaching her hair blonde to emulate Madonna's look at the time, Katy decided to go black instead.
In this 2012 photo, Katy sports a chilled out look with freshly dyed cobalt blue hair at Paris Fashion Week.
Katy's Royal Flush
In addition to wild hair colors, Katy Perry has quite a bit of fun with hair accessories including everything from giant red bows larger than her head to exotic wildflowers intricately woven into her hair.
In this photo, Katy shows off a royal flush hair accessory as she arrives for the 2008 Rok Vegas opening.
Colorful Performances
Whether performing on TV, on stage or on the street, Katy's colorful and bright attitude shines in her clothes as much as it does in her music. Besides being known as a pop superstar, Katy has made quite a splash with her unique sense of fashion. Her bold styles have drawn both derision and adoration from the public.
In this 2008 photo, Katy shows off a sunny watermelon-themed dress for her fans during NBC's Today Show morning concert series in New York City.
Roaring Twenties Katy
Katy has often found inspiration for her fashion style from Hollywood's past. A year ahead of her time, this 2012 photo proves that Katy was into the Art Deco flapper trend long before Baz Luhman's The Great Gatsby hit the movie screens and made the style popular again.
Fashion is not the only connection that Katy has to Hollywood. Her songs have been featured in Hollywood hit films ranging from Sisterhood of the Traveling Pants to Madagascar 3.
Jingle Bell Katy
Katy Perry has drawn fashion inspiration from a wide variety of sources, from Hollywood, to holidays such as the 4th of July, to cathedrals.
In this photo, Katy goes for yet another holiday theme as she attends z100's 2008 Jingle Ball in New York.
At the 55th Annual Grammy Awards
Since 2009, Katy has been nominated for nine Grammy awards. She names Cyndi Lauper, Joni Mitchell, Cher, Alanis Morisette and Pat Benatar among her greatest musical influences.
In this early 2013 photo Katy attends the 55th annual Grammy Awards ceremony in Beverly Hills, California.
NRJ Music Awards in Cannes, France
Katy Perry is the first woman and the second artist other than Michael Jackson to have five number one hits from the same album -- in this case, from her smash-hit Teenage Dream album released in 2010.
In this 2009 photo, taken the same year when she began recording Teenage Dream, Katy arrives at the NRJ Music Awards in Cannes, France.
Katy at the MTV Awards
Katy Perry released her signature I Kissed a Girl in May of 2008. The single shot to the top of the charts and became a requested favorite on multiple radio stations. The song, from her album One of the Boys, was nominated for a 2009 Grammy award.
In this 2008 photo, Katy arrives at the MTV Video awards where her song I Kissed a Girl garnered her several nominations including Best Female Video and Best New Artist.
Critic's Choice Awards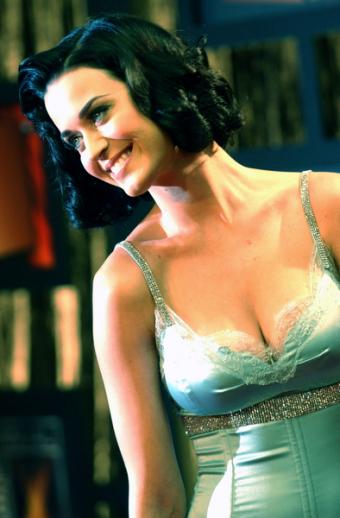 Katy's second big hit Hot'n'Cold quickly entered the top five in countries all over the world. In between the releases of I Kissed a Girl and Hot'n'Cold, Katy appeared as herself on the daytime drama The Young and the Restless.
In this 2009 photo, Katy arrives for the 14th Annual Critics Choice Awards in Santa Monica, CA.
Katy Performs in London
Katy Perry's success and popularity have continued to rise - not bad for a girl who struggled for many years to find a label to support her quirky style. She recorded three albums that received little attention before she hit pay dirt with One of the Boys.
This 2008 photo shows her performing at the Scala in London.
Katy Perry Pictures Success at the Water Rats Pub
Katy rocks out at this 2008 concert at the Water Rats Theatre Bar in London, a much more intimate venue than the larger-than-life stadium and arena shows that would become her standard showspace.
Katy Arouses Controversy
Katy's music, including Ur So Gay and I Kissed a Girl, have been labeled homophobic and have aroused a great deal of controversy from gay and lesbian critics. Conservative groups took equal objection to the song lyrics, concerned that girls would practice kissing other girls. More neutral listeners simply enjoyed the renewal of bubblegum rock for another generation.
In this 2008 photo, Katy arrives at the MuchOnDemand event in Canada.
The Return Home
The Bacara Resort & Spa is one of the most illustrious resorts in the continental United States, and it happens to be located just a few miles north from Katy Perry's hometown of Santa Barbara, CA. In fact, the legendary resort on Hollister Avenue is only a couple miles away from Jubilee Christian Church, a humble Christian private school for working-class families that Katy attended as a young girl.
In this late 2012 photo Katy returns to her old stomping grounds, attending a star-studded gala at the world-famous Bacara Resort.
For more great photos of a popular female musician, try the Taylor Swift gallery.