The persona of Marilyn Manson grips many people, whether they are devoted Manson fans or they are repelled by him. Manson's story is one of behavioral extremes, clever marketing, and giant music industry success and controversy.
The Early Years
Marilyn Manson was born with the decidedly less remarkable name Brian Hugh Warner in Ohio in January, 1969. As a child, he moved with his strict Christian parents to Florida, where he attended religious schools.
From Journalism to Music
After high school, Manson pursued a journalism degree at Broward County Community College, and through this coursework, he built up some of the musical contacts that would serve him well in the future. He began to write music columns for the local newspaper and used the column to meet some of his heroes, bands such as My Life with The Thrill Kill Cult and Nine Inch Nails.
Forming a Band
In 1989, around the same time he started writing for the paper, Manson formed his first band, Marilyn Manson and the Spooky Kids. This band eventually morphed into simply Marilyn Manson by 1992. Joining him in the band were:
Jeordie White - aka Twiggy Ramirez
Stephen Gregory Bier, Jr - aka Madonna Wayne Gacy
Scott Putesky - Daisy Berkowitz
Brian Tutenick - Olivia Newton Bundy
The stage names of the band were intended to emphasize the good and bad parts of each person by taking the first name of a beloved female celebrity and the last name of a serial killer.
During this time Manson was also involved in producing fellow local band Jack Off Jill, who would also go on to find success, and playing in a few other local side projects. However, Marilyn Manson, the band, soon became his main focus.
The Big Breakthrough
Marilyn Manson used his connection with Trent Reznor of Nine Inch Nails to pass on some demos to him. Reznor liked what he heard and brought the band into the studio to work on their debut album, Portrait of an American Family. Reznor produced this album and released it on his label, Nothing Records, in 1994.
Manson's debut album was a cult success and the band became a top draw on the club circuit. Breakthrough success came in 1995, when MTV put into heavy rotation the video for the single Sweet Dreams (Are Made Of This) from the band's follow up remix album, Smells Like Children. Propelled by the striking video, this cover of the Eurythmics' song made Marilyn Manson an overnight chart sensation around the globe.
Studio Albums and Well-Known Singles
Music critics have likened Manson's music, which tends to be categorized as alternative, goth, and industrial metal, to sonic horror films. Marilyn Manson has released eight studio albums and doesn't show any signs of slowing down.
Some of Marilyn Manson's best known singles throughout the years include The Beautiful People from the Antichrist Superstar album, Disposable Teens from the Holy Wood album, and The Dope Show from the Mechanical Animals album. In 2013, Manson's song No Reflection from the Born Villain album garnered a Grammy nomination for Best Hard Rock/Metal Performance.
Concert Tours
Marilyn Manson has toured regularly, with a tour to promote each studio album. One of his biggest was the Dead to the World tour in conjunction with Antichrist Superstar, for which the band played 175 shows throughout 1996 and 1997. In 2012, Marilyn Manson embarked on a thirteenth tour, Hey Cruel World, to promote their latest album, Born Villain, and it included 163 shows. Marilyn Manson, along with his band, has shown himself from time to time to be a wild child on tour, wreaking havoc on hotel rooms and backstage areas.
Marilyn Manson and Controversy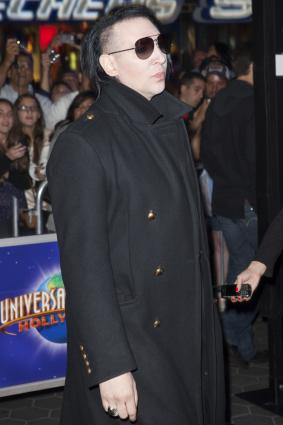 Marilyn Manson has been a lightening rod for all kinds of controversy throughout the years. Naturally his persona has made him a target of the Christian Right who picket his concerts, and some towns have successfully barred him from performing in their area. Of course, there are those who believe that Marilyn Manson is a very cleverly crafted character, a claim Manson himself alternately embraces and denies.
Columbine Shooting
One of the biggest charges Manson has faced is that his music was somehow responsible for the Columbine High School shootings. Manson addressed this claim head-on in the movie Bowling for Columbine, where he dismissed the idea and claimed he was an easy scapegoat.
Lawsuits
Band member relationships have been the source of ongoing legal battles for Manson as well. Virtually every member of the band has filed a lawsuit against Manson at some point. He has also been the target of various other complaints, including two civil suits from security guards at his concerts and another by the mother of deceased actress Jennifer Syme, who was killed in a car crash driving to Manson's house under the influence of drugs.
Personal Life
Manson married burlesque dancer and fashion icon Dita Von Teese in 2005, but slightly more than a year later, Von Teese filed for divorce. The reason is believed to be Manson's relationship with a then-teenage Evan Rachel Wood, an actress appearing in one of his film projects. Manson and Wood got engaged in 2010 only to break their engagement later in the year. In 2012, Manson said he might like to have a child with his girlfriend, Lindsay Usich.
No, That's Not Him
Once and for all, no, Manson did not play the character of Brian in the TV show The Wonder Years. It is an urban legend that refuses to die, but that character was actually played by actor Josh Savino. And no, Manson wasn't on Mr. Belvedere, either.
Rocking On
Controversial music artists who skyrocket to success often show themselves to be just flash in the pan phenomena. This, however, is not the case with Marilyn Manson. The shock rocker has sold millions of records and concert tickets, and both the band and the man Marilyn Manson remains one of the top selling acts in music.