International pop star Kylie Minogue has been entertaining audiences and making them dance for over 25 years. Take a look back at how this artist got her start and how her life and career have developed over the years.
Kylie Minogue's Path to Success
Kylie Minogue was born May 28, 1968 in Melbourne, Australia. She's the oldest of three children, including her singer/actress sister Danni and brother Brendan, a television cameraman.
Early Stardom
Kylie began her road to stardom as an actress, appearing in small roles as a young teen. However, it was her role as Charlene on the Australian soap opera Neighbours in 1986 that first made Kylie a household name.
In 1987 her cover of The Locomotion became a worldwide pop hit, thanks in part to the fledgling music channel MTV. The song would help fuel her success as one of the world's biggest female pop stars for many years to come.
Continued Success
Throughout her career, Minogue has sold millions of albums. Her numerous accolades include Brit Awards, MTV Music Awards, Top of the Pops, and more. Overall, she has enjoyed more success in Australia, Europe, and Asia than in North America. However, fans around the world have been drawn to her danceable tunes. On November 27, 2011, Kylie was inducted into the Australian Recording Industry Association Hall of Fame.
Film Career
Kylie's efforts at an acting career, aside from Neighbors, have been somewhat less successful than her singing career, but she has appeared in a number of films over the years. The list includes films such as Bio-Dome (1996), as well as Moulin Rouge! (2001) and Jack and Diane and Holy Motors in 2012.
Romantic Liasons
Kylie has been involved in several romances, including relationships with her Neighbors co-star Jason Donovan. Other romantic links include the late Michael Hutchence of INXS, model James Gooding, actor Olivier Martinez and Spanish model Andres Velencoso.
Battle with Cancer
In 2005, Minogue was diagnosed with breast cancer. She took a break from recording and touring to take care of her health. She also wrote a children's book, The Showgirl Princess, and developed a perfume during her musical hiatus. By 2006, she returned to the studio as a cancer survivor.
Discography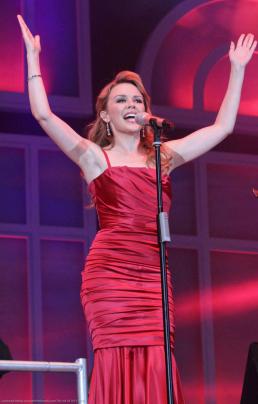 According to Kylie Minogue's official website discography, the singer has released 13 albums so far since her debut. Bonus tracks, remix albums, and region-specific releases make even more songs available for fans.
Kylie - 1988
Enjoy Yourself - 1989
Rhythm of Love - 1990
Let's Get to It - 1991
Kylie Minogue - 1994
Impossible Princess - 1997
Light Years - 2000
Fever - 2001
Body Language - 2003
X - 2007
Aphrodite - 2010
The Best of Kylie Minogue - 2012
The Abbey Road Sessions - 2012
Kylie Minogue Gallery
Kylie remains as beautiful today as when she began her career, and the gallery of photos at Glamour UK's website serves as testimony to this fact. You'll find a photo of a very young Kylie as well as other images of her through the years.
Future Endeavors
With a healthy singing career, forays into fragrance and fashion, and Kylie's continued bid for an acting career, it's difficult to imagine what might be next for this talented woman. One thing is sure; she never gives up when she sets her sights on something she wants.