Finding Free 80s Music Downloads
From fashion to movies, the 1980s defined a generation and continues to influence modern culture. Nostalgic individuals and those discovering these tracks for the first time can find free MP3 downloads of 80s music from a variety of different sites. Molly Ringwald poster not included.
Official Band Websites
The majority of artists and bands sell their music through a variety of different channels online and offline. Many of them also offer some free downloads via their official websites.
De La Soul
The music styling of De La Soul could be considered "alternative" hip hop. The single Me Myself and I was especially popular in the late 80s. On the official De La Soul website, the hip hop group is offering the Smell the DA.I.S.Y. mixtape for download. There is an option to donate any amount you choose to the band in exchange for the download, though this is not mandatory. There are 11 tracks on the mixtape, including Let The King Ascend and Leave Your Cares Behind.
Hirax
American thrash metal band Hirax got their start in 1982, releasing their first album Raging Violence in 1985. The band's official website is a little difficult to navigate, with extra long pages on black backgrounds, but links to free MP3 downloads of their music are interspersed across several pages. For instance, the Lucifer's Inferno MP3 can be downloaded from a link on the discography page.
The Pixies
An alternative rock band from Boston, the Pixies were generally more popular in the United Kingdom than they were back in the United States. Getting their start in the mid-80s, the Pixies temporarily disbanded in the mid-90s before reuniting in 2003. Today, fans can go to the Pixies official website to download Women of War for free. Click on the prompt to download at the top of the page, and then enter your email address to get the link to download the free track.
The Plutonians
While The Plutonians were a little-known rock band from Texas in the early 80s, their sound is rock with an alternative twist. The band's website features some fun free music like The Plutonians Live New Year's Eve Party in 1981. There are a total of 17 tracks in that listing including original material and covers of popular songs like Turning Japanese, all of which are provided as free MP3 downloads.
Simple Minds
When you sign up to be a member of the Simple Minds official website, you gain access to a number of free downloads from the site and more bonuses are added all the time. For instance, there is a special welcome gift consisting of five free MP3 downloads: New Gold Dream, See the Lights, Stay Visible, Rockets [Emiliano Patrik Legato remix] and 30 Years Live Intro.
Suzanne Vega
She may have been a hit in the 80s, but Suzanne Vega continues to tour and release new music to this day. Her official website features a free music player that streams many of her most popular songs, but the streaming music is not available as a free download. However, those who sign up for Suzanne's mailing list receive a free MP3 download, like Gypsy from the Close-Up Volume 1 Love Songs album.
More Resources for Free 80s Music
While there are many reliable sources for buying music online, finding websites with free music downloads can be more of a challenge. If you don't mind investing some time to search for available tracks, these sites have some great tunes that you can download at no cost.
Free Music Archive
The Free Music Archive, or FMA for short, is a resource that offers many royalty-free music downloads. Artists license their own individual tracks, typically under a Creative Commons license. Not all of the music is geared toward the 1980s, of course, but there is at least one mix from katya-oddio that focuses on musical heroes from the late 70s to mid 80s. The 34-track compilation includes David Byrne from Talking Heads, Paul Westerberg, OMD, The Damned, and Gang of Four, among many others.
SoundCloud
SoundCloud is known mostly as a music streaming website, but many of the tracks there are also available for download. Simply look for the download icon -- a downward pointing arrow on top of a flat horizontal line -- among the list of the icons below the audio waveform. There is no specific category for 1980s music, but some SoundCloud community members have put together playlists for lovers of 80s tunes. Some of the songs are unofficial cover versions of songs by hugely popular bands like Van Halen and Iron Maiden.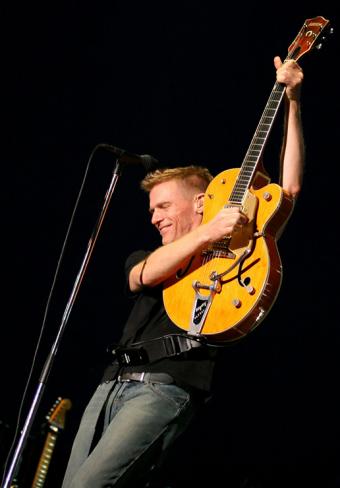 The Rise of the MTV Generation
The 1980s were an iconic period in popular music, particularly with the launch of MTV and the arrival of the first real music videos. From Michael Jackson to Duran Duran, Madonna to Metallica, many of the greatest solo artists and bands emerged during this decade. Use these free downloads to relive some of those memories and discover some 80s artists that you may have missed, too.