To borrow the language of graphic artists, equalizers (EQs) help make the colors of music pop. To be sure, recording artists do all the high-end EQ work in the studio, but having a mobile music player with a…
Keep reading »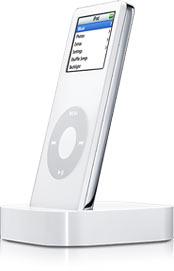 How do you listen to your music? The music and mp3 players category on LoveToKnow Music has reviews on all types of devices, written by real people like you. From digital music players such as the iPod to CD players, stereo systems and even music playing software, get more out of your music with a good music player.
Types of Music MP3 Players - Digital
In recent years the most popular types of music players have been digital. Commonly called "portable mp3 players", these devices store music from a user's computer for on-the-go sounds.
There are many different storage types and sizes of digital music players.
Flash players - Smaller, lighter and less likely to break or skip during rough play, flash digital music players come in a variety of styles. Their storage capacity is less than that of a hard drive player with the largest topping out at approximately 2GB. Even the average-sized 512MB player will let you store over 100 songs, making the perfect portable music player that's fit to take to the gym.
The iPod Shuffle, iPod Nano and JetAudio U2 are examples of flash players. Many new players can retail for under $100.
Hard drive players - Larger and bulkier than their flash cousins, hard drive players have the distinct advantage of holding thousands of songs. Perhaps the most famous of these players is the iPod line from Apple. Hard drive players can come with 10, 20, 30 or more gigabytes of storage space and cost a few hundred dollars on average.
Traditional Music and MP3 Players
Once the coveted high-tech storage medium in the music world, CDs are rapidly giving way to digital music distribution. Even still, they are far from dead and continue to dominate media centers in homes all over the globe. You can find stereo systems or portable CD players in nearly any retail store. Specialty shops often carry high quality systems that can milk your discs for the best sound possible.
The tried and true music mediums such as cassette tapes and vinyl are still kicking in today's world of technology. While most retail stores don't carry music players for these, there are a number of specialty shops that specialize in classic music hardware.
Music Player Software
Don't forget about listening to music from your home computer. There are thousands of music playing programs available for Windows, Mac OS and Linux. Most operating systems come with a default software package that includes a music player. For example, Windows has Windows Media Player. If the packaged software is too bloated or just isn't your style, there are a number of alternatives available for free or for a very small price. Check out the selection of articles for some great suggestions!